CAUTION: THESE ARE NOT COMFORTABLE SLIPPERS!!!
Some customers complained that these massage sandals are hurt to wear, it generally because feet tension or never tried a similar product before. That is a usual situation, we suggest adding socks and start with a few minutes only, this discomfort will be disappeared after 1-2 weeks of using. If you are zero pain tolerance, this may not a good product for you!!!
Note: It is not recommended to go out or use it for a long time. It has a better effect with a 10-30 minutes use of per time, 2-3 times every day.
【Relaxation & Pain Relief】Foot massage slippers have a spe

cial silicone massage column, which can be rotated 180 degrees to better stimulate the foot acupuncture point massage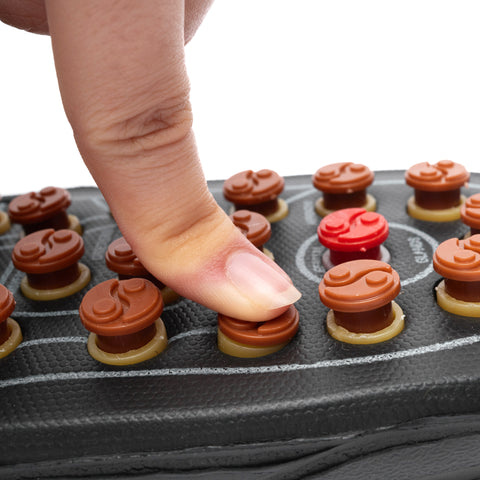 【Easy to Use】Just spent 10-15 minutes per time enjoying an acupressure foot massager by simple walking. Wearing these to help stimulate and awaken your body in the morning, reduce stress and anxiety after work

【Unique Design】This massage sandals are designed according to the acupuncture points of the human foot, cavity by stimulating the reflection points on your sole, enhance overall health. The upper is designed with a velcro strap, which can adjust the size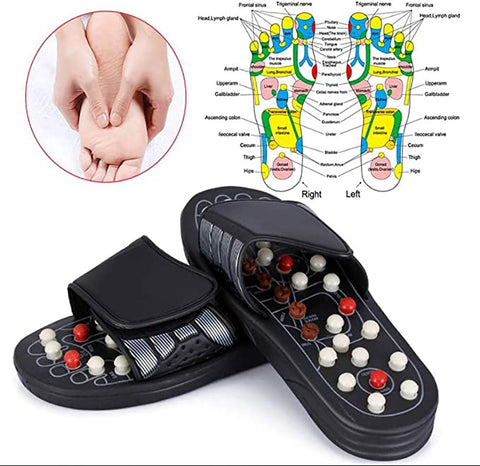 What kind of people suit for these foot massage slippers?
long-standing or walking workers who want to ease foot tension.

The office workers who want to relieve muscle tension.

Fitness people who need deep tissue relaxation.

Elderly people who want to improve mobility.
How do reflexology sandals work?
Reflexology is a type of massage that involves applying pressure to the feet, hand, and ears. In Chinese medicine, different body parts correspond with different pressure points on the foot.  Acupressure sandals according to the maps of footpoints, applying pressure to these foot acupoint offers a range of health benefits.