BENEFITS: Face roller --- muscle tension relief, reduce facial puffiness and help your skin look fresh; firm your skin and make it look dewy and lifted

Face Roller: The at-home skincare face massager tool is made of rose quartz. The face & eye roller is sturdy and no squeaky. The massager roller is very smooth

Gua Sha: not only can lift your skin and improve fine lines with upwards pressure, but it also helps to shape your jawline

Tips: You can keep the facial jade roller and Guasha in the fridge and it helps to reduce morning puffiness and get the skin refreshed

The beauty skin care tools are packaged in a beautiful gift box.We suggest you wash the beauty skin care tools ---- face roller and guasha ---- after and before each use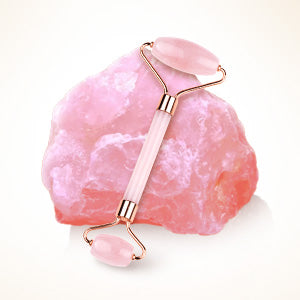 It commonly comes with natural texture inside the stone.
The roller works by providing a cooling sensation on skin, firming skin and reducing puffiness.
Keep the face massager in the fridge and it will make your face and eyes feel cool.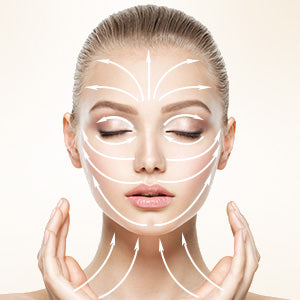 Regular and correct use of roller and Guasha can give you a better effect.
Notice: Pair your eye-roller and Gua sha with facial oil, serum or cream. It will help the tool more smoother on your skin.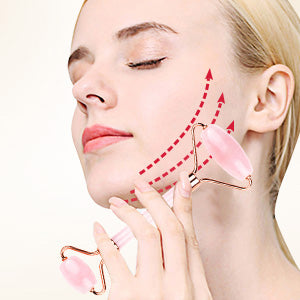 Use the big face roller on your chin, forehead, cheeks and neck.

Start in the middle of the face and roll upward and outward.

Move from the neck and roll upwards across the chin.
Use the small roller part under the eyes and around the nose.
Roll the face roller massager in an upward and outward motion.
A facial roller for women to relax and calm.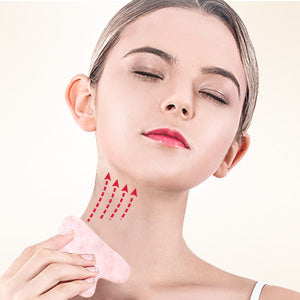 The flat jade stone that has curved sides is gently pressed along your face, moving upward and outward.
Guasha can also be used for your larger muscles, such as areas on your shoulder.
Use the flat stone and it helps to relieve pain and stiffness.