Description
Without grinding feet
Elastic topline for easy on and off
Fit fashion
Non-Skid
Secure Fit
Good Traction
Slow shock jump, soft and comfortable
Solyte midsole provides an exceptionally lightweight midsole with excellent bounce-back and durability
Comfortable Fabric, Delicate Breathable

Breathable and durable air mesh upper allows the foot to breathe
Open mesh on the upper and hole on the sole provides for superior breathability and quick drying
Wash resistance
Fastness


Damping Latex Insole

Memory Insole

Classic leather insole with cushion for comfort

Breathable leather lining

Latex arch insert for added support

ComforDry sock liner provides the optimum cushioning performance that creates a cooler, drier, and healthier shoe environment.
    
We believe we all need to move to a more sustainable lifestyle, and that's why we've taken action. By wearing a pair of Tiosebon Sneakers, you are actively protecting the ocean, as every pair uses 7 plastic bottles that will never make it to our seas. 
We also use old recycled garments. This means we're fighting new cotton farming- reducing the use of pesticides, fertilizer, water usage, solar energy usage, and CO2 emission. 
17 Colors Options: Click the picture to review all colors!
Click here to see the Customer Reviews on our Amazon store.
Customer Reviews
Write a Review
Ask a Question
Filter Reviews:
discomfort
anyone
love
Bunions
time
pair
shoe
02/02/2021
Janine H.

United States
Love them!
Love them! So comfortable, easy to put in and look great!
09/30/2020
Deapria S.

United States
Great fit
This was my first time purchasing these shoes. I feel in love at first fit. The shoes are extremely comfortable. I have Bunions and these are the first pair of shoes I was able to wear without discomfort. I highly recommend these shoes for anyone looking for a shoe that is durable and Comfortable all rolled up in one
08/01/2020
Carole H.

United States
Super Comfortable
Very pleasantly surprised. They fit well and are almost "too comfortable". Hardly know I have shoes on my feet!
05/01/2020
Nancy S.

United States
Some of my favorite shoes!
These shoes are so attractive, comfortable and easy to put on and off. The support is good and they are the first shoes I put on each morning when dressing casually. I have 4 pair!
04/07/2020
Bichon M.

United States
Super comfortable
These Lancrop mesh sneakers are so easy to put on. The top stretches easily like a sock and they just pull on. They are very lightweight and give me the support and comfort that I want on long walks. Although I normally wear a size 9, I got these shoes in a 9.5 and I'm happy that I did. The extra half size gives me the flexibility to wear heavier socks if I like but I have no problem with slipping if I wear thinner socks either. I like having the extra room in the toe area and the heels fit very snugly and comfortably. I am so happy with this shoe that I plan to order additional colors.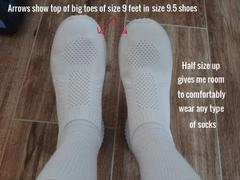 Cute and functional
These shoes are very lightweight & I forget I'm wearing them. My toes aren't scrunched at the toe and they stretch enough that my feet don't feel like encased sausages; even after walking and standing for a few hours.
I can't wait to buy more colors
This is my 2nd pair. The first pair is still just great, but I wanted another pair so I could get one dirty in the garden and the other pair be my stepping out shoes (and the price is right). Love them! These wonderful shoes snug the feet from the first second I stepped into them.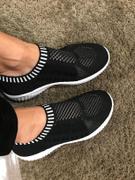 These are the greatest shoes !!
I am on my feet all day at work. I also have a bunion on one foot so I usually have to order wide shoes for comfort. These shoes were wonderful from day one. The stretchy upper material is so comfortable and puts no pressure on my bunion. I have already purchased the shoe in white and black and will be ordering another pair soon. Before ordering I read several reviews saying to order a half size larger than your normal size. I agree. I did this and the fit is perfect. There is also enough support for standing all day. I highly recommend!!
LOVE THESE SHOES
hey are just a bit big....but I like that . These shoes are so comfortable I ordered 4 more pair in different colors. I LOVE these shoes...my youngest daughter tried them on and also fell in love and ordered a couple pair. I have told MANY friends about these truly COMFORTABLE shoes !! I am impressed.
Great Shoes!
Very comfortable and lightweight shoes... and easy to slip on! However, I got to try them on ONCE before my son, who has flat feet and has a hard time finding any comfortable shoe, tried them on just for kicks and grins. We could not believe how well they fit his feet and, after walking around for a moment, he was in love with the shoes. Guess who got the shoes? My son has worn them since and has said on several occasions how much these shoes have been a godsend for his feet during his work days.
Cute and convenient
True to size, normally wear 6 1/2 in regular shoe, 6 in wide shoes, got these in 6 1/2 and they fit perfectly. Very comfortable, a little on the warm side. Comes with little thin half socks which are a great idea so your feet don't stick when they sweat. (Will have to look into purchasing more of those)They are easy to slide on and off, a nice option to Keds. The navy with white sous look great with my faded jeans or my dark jeans with the hems rolled up. Will be wearing these on an upcoming flight for the these in slipping them on and off. I'm considering buying other colors.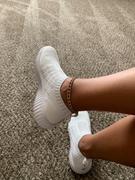 Very comfortable shoes at a great price!
I purchased these on the recommendation of a fashion blogger. I was looking for a pair of shoes to replace the Skechers GoWalk shoes I had that were wearing out. I have had problems with plantar fasciitis in the past so I am very careful with the walking shoes I buy, but decided to give these a try because of the recommendation and price. These did not disappoint. I've spent the last 2 months walking in them (including a 12k step day on the sidewalks in Seattle) and have had no problems with my feet. I purchased the apricot color and the color reads as a tan in person - very cute! I did size down a 1/2 size per the sizing recommendations and there is still plenty of room in the length of the shoes.
Great product
I am extremely happy with this purchase. I was leery since I had never heard of this brand before, but I decided to give it a shot since it wasn't a bad price. These are EXTREMELY comfortable. I needed something like this. I am on my feet most of the day for work and I have lupus and suffer foot pain. These shoes help alleviate a lot of pain for me. Light weight and cushiony. I will order again and have been telling many people about these shoes. Thank you.
Lightweight, very comfy and cute: these are a must have
These shoes are SO comfy! I love them! In addition to being cute, they are really lightweight. I'm a size 6.5 tending to wide and these fit very well. Not so well were the more expensive medium Sperry's which were really cute but way too narrow; I'm returning those and thrilled with these. Definitely recommend, may buy another pair!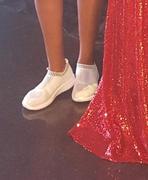 Good shoes for narrow feet!
I like these shoes so much I bought two pairs. My feet are very narrow, and I have trouble finding shoes that fit without coming off my heels. These have the comfort band that makes them very comfortable.
Great fit, quality, price!
They say the best time to try new shoes is when your feet are tired. Such is my case. The package was waiting for me when I returned from work, where I was standing all day. I have them on now and will wear until bedtime. If they still feel good, I'll wear them on my walk tomorrow.If they feel good during the walk, I'll order another pair. These shoes fit like a glove. 7.5 US, inside shoe says size 38, extremely comfortable. I'm talking "slipper' comfortable. The band around the top is not restrictive and will probably be nice during a run, which I don't plan unless someone is chasing me. There is no rubbing anywhere. The parcel included a thin pair of socks that I've seen some folks wear with flats, but I never wear them because they always "shift" on me. It's nice to get a bonus, though. I'll update this review if I find these shoes do not live up to my expectation. Today, I am doing my happy dance.